Eco Showboat at Dromineer Harbour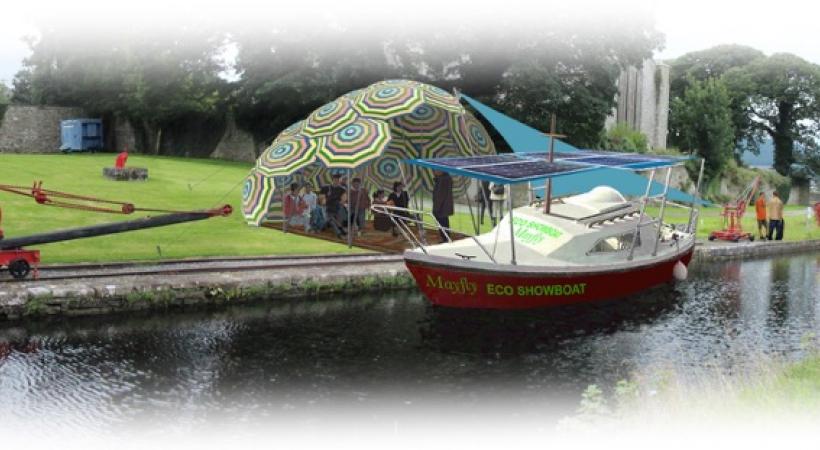 Event Description
The Eco Showboat Mayfly expedition is a four month arts voyage from Limerick to Enniskillen on the Mayfly, the flagship of the Eco Showboat project, and the first solar electric boat to make this journey.
On Wednesday 18th May the Mayfly will dock at Dromineer Harbour. You are invited to join us for this wonderful afternoon of workshops, poetry, talks and of course some refreshments.
2.30 - 3.30pm
A packed day for the Tipperary Bealtaine festival with Poetry in the Pavillon with renowned poets Eleanor Hooker and Emily Cullen.
Eleanor Hooker is a poet and writer, living in North Tipperary. She is author of three collections of poetry. She is a helm and Press Officer for the Lough Derg RNLI Lifeboat.
Emily Cullen is a writer, scholar, curator and harper. She has published three poetry collections: Conditional Perfect
3.30 - 4.15pm
Meet Ailbhe Gerrard, a passionate organic farmer with a heart for bees and also co-tutor on IFOAM – Organics International Regenerative Agriculture course. Brookfield Farm is set within the beautiful landscape of Co. Tipperary running down to the shores of Lough Derg, producing artisanal food and honey through sustainable farming processes.
5pm
Slow Looking Workshop
Anne Cleary and Denis Connolly believe looking closely at things for the purposes of observation and accurate documentation affords a deeper learning experience by fixing attention. This workshop invites you to use a range of simple viewing devices - bug boxes and magnifying glasses - to observe closely samples of biodiversity found on site, and to draw these using the materials provided.
6pm
River Movie
River Movie will record the first expedition of the Mayfly - a series of encounters with artists, activists and scientists as we travel upriver from Limerick to Enniskillen, discovering the beauty of the Shannon and the Erne waterways, exploring scientific and artistic ideas for how we can save this environment from everything that threatens it today - pollution, invasive and endangered species, climate change… Using a 4k drone, a 4k gimbal camera, an IR camera and other devices for macro-photography and sound recording, River Movie will document a unique collaboration of art and science addressing the great problem of our time.
Event Start Time
02:30 pm
Organiser Name
Tipperary Arts Office